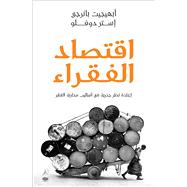 Note: Supplemental materials are not guaranteed with Rental or Used book purchases.
ISBN: 9789992195246 | 999219524X
Cover: Paperback
Copyright: 6/30/2016
Billions of government dollars and thousands of charitable organizations and NGOs are dedicated to helping the world's poor. But much of the work they do is based on assumptions that are untested generalizations at best, flat out harmful misperceptions at worst.
Banerjee and Duflo have pioneered the use of randomized control trials in development economics. Work based on these principles, supervised by the Poverty Action Lab at MIT, is being carried out in dozens of countries. Drawing on this and their 15 years of research from Chile to India, Kenya to Indonesia, they have identified wholly new aspects of the behaviour of poor people, their needs, and the way that aid or financial investment can affect their lives. Their work transforms certain presumptions: that microfinance is a cure-all, that schooling equals learning, that poverty at the level of 99 cents a day is just a more extreme version of the experience any of us have when our income falls uncomfortably low.
Throughout, the authors emphasize that life for the poor is simply not like life for everyone else: it is a much more perilous adventure, denied many of the cushions and advantages that are routinely provided to the more affluent: if they do not have a piped water supply the poor cannot benefit from chlorination; if they cannot afford ready-made breakfast cereals they cannot gain the enriched vitamins and other nutrients; they are routinely denied access to markets; and, they get negative interest rates on their savings, while exorbitant rates are charged on their loans. The daily stress of poverty discourages long-term thinking and often leads to bad decision-making. Add to that the fact the poor are routinely denied the information that might help them manage the nightmarish predicament that in most cases they are born into through no fault of their own.