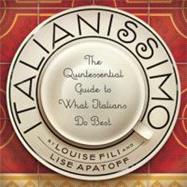 Note: Supplemental materials are not guaranteed with Rental or Used book purchases.
ISBN: 9781892145543 | 1892145545
Cover: Hardcover
Copyright: 9/2/2008
What is it about Italy that inspires passion, fascination, and utter devotion? This quirky guide to the Italian way of life, with its fifty witty mini-essays on iconic Italian subjects, will answer that question as well as entertain and delight both real and armchair travelers. Topics range from insulting hand gestures to patron saints, pasta, parmesan, shoes, opera, the Vespa, the Ferrari, gelato, gondolas, and more. History, folklore, superstitions, traditions, and customs are tossed in a delicious sauce that also includes a wealth of factual information for the sophisticated traveler: why lines, as we know them, are nonexistent in Italy why a string of coral beads is often seen around a baby's wrist what the unlucky number of Italy is (it's not thirteen, unless seating guests at a table, when it IS thirteentaking into account the outcome of the Last Supper) why red underwear begins to appear in shops as the New Year approaches In addition to the lyrical and poetic,Italianissimoprovides useful and indispensable information for the traveler: deciphering the quirks of the language (while English has only one word for "you," in Italy there are three), the best place to find balsamic vinegar (in Modena, of course), the best gelato (in Sicily, where they first invented it using the snow from Mount Etna). There are also recommendations for little-known museums and destinations (the Bodoni museum, the Pinocchio park, legendary coffee bars).This is a new kind of guidebook overflowing with enlightening and hilarious miscellaneous information, filled with luscious graphics and unforgettable photographs that will decode and enrich all trips to Italyboth real and imaginary.