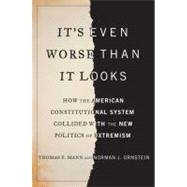 Note: Supplemental materials are not guaranteed with Rental or Used book purchases.
ISBN: 9780465031337 | 0465031331
Cover: Hardcover
Copyright: 5/1/2012
Hyperpartisanship is as old as American democracy. In moments of heightened rancor, congressmen and senators used to challenge each other to duels or hit each other with canes. But now, acrimony is not confined to a moment; it's a permanent state of affairs. Nor is it confined to Congress; it has seeped into every part of the political process. Thus, Congress' approval ratings are at record lows, and both Democrats and Republicans are disgusted by the government's inability to get anything done. In It's Worse Than It Looks, Congressional scholars Thomas Mann and Norman Ornstein present a grim picture of how personal pettiness and childish tribalism have led Congress - and the United States - to the brink of institutional failure. Though the nation handed the reins of governance to the Democrats in 2006 and then again in 2008, the Republicans pursued obstructionist tactics, and since they were rewarded for those tactics in 2010, things have only gotten worse. Since the 2010 midterms, the legislative process has been stuck in a grinding gridlock because of the Republican Party's refusal to allow anything that might help the Democrats politically, no matter what the cost. At the same time, artificial barriers to compromise - such as campaign pledges, the abuse of arcane parliamentary rules and purity tests in primary campaigns - have been erected, exacerbating pre-existing structural deficiencies in all branches of government. Having diagnosed the problem, the authors offer solutions. There is no "silver bullet" reform that can solve everything, but increased education, greater political participation, more outlets for responsible, non-extreme voices, and institutional restructuring of the House and Senate will fix Congress' functionality and rescue American democracy from the bickering and gridlock of recent decades.