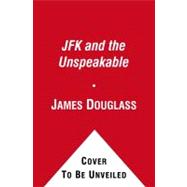 Note: Supplemental materials are not guaranteed with Rental or Used book purchases.
ISBN: 9781439193884 | 1439193886
Cover: Paperback
Copyright: 10/19/2010
THE ACCLAIMED BOOK, NOW IN PAPERBACK, with a reading group guide and a new afterword by the author.
Douglass presents a very compelling argument that Kennedy was killed by "unspeakable" (the Trappist monk Thomas Merton's term) forces within the U.S. national security state because of his conversion from a cold warrior into a man of peace. He argues, using a wealth of newly uncovered information, that JFK had become a major threat to the burgeoning military-industrial complex and had to be eliminated through a conspiracy planned by the CIA – "the CIA's fingerprints are all over the crime and the events leading up to it" - not by a crazed individual, the Mafia, or disgruntled anti-Castro Cubans, though some of these may have been used in the execution of the plot.
At the height of the Cold War, JFK risked committing the greatest crime in human history: starting a nuclear war. Horrified by the specter of nuclear annihilation, Kennedy gradually turned away from his long-held Cold Warrior beliefs and toward a policy of lasting peace. But to the military and intelligence agencies in the United States, who were committed to winning the Cold War at any cost, Kennedy's change of heart was a direct threat to their power and influence.
Once these dark "Unspeakable" forces recognized that Kennedy's interests were in direct opposition to their own, they tagged him as a dangerous traitor, plotted his assassination, and orchestrated the subsequent cover-up.
Douglass takes readers into the Oval Office during the tense days of the Cuban Missile Crisis, along on the strange journey of Lee Harvey Oswald and his shadowy handlers, and to the winding road in Dallas where an ambush awaited the President's motorcade. As Douglass convincingly documents, at every step along the way these forces of the Unspeakable were present, moving people like pawns on a chessboard to promote a dangerous and deadly agenda.