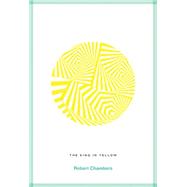 Note: Supplemental materials are not guaranteed with Rental or Used book purchases.
ISBN: 9781909399501 | 1909399507
Cover: Paperback
Copyright: 5/15/2015
In this collection of dreamlike short stories, set in Paris and New York, Robert W. Chambers weaves a tapestry of horror, science fiction, and romance, entwined with the menacing thread of The King in Yellow, a play so terrifying and disturbing that to experience it instantly engulfs one in madness and despair. The ruthless heir to a lost kingdom; a sculptor with a horrifying secret; stalking demons; decadent art students; doomed lovers - the shadow of The King in Yellow looms over them all.
Also available in the Classics by Roads series:
<a href="http://www.accdistribution.com/us/store/productdatasheet/9781909399341">Dracula,</a> Bram Stoker, ISBN 9781909399341
<a href="http://www.accdistribution.com/us/store/productdatasheet/9781909399013">Heart of Darkness,</a> Joseph Conrad ISBN 9781909399013
<a href="http://www.accdistribution.com/us/store/productdatasheet/9781909399334">Jane Eyre,</a> Charlotte Brontë, ISBN 9781909399334
<a href="http://www.accdistribution.com/us/store/productdatasheet/9781909399273">Journey to the Centre of the Earth,</a> Jules Verne, ISBN 9781909399273
<a href="http://www.accdistribution.com/us/store/productdatasheet/9781909399280">Lady Chatterley's Lover,</a> D.H. Lawrence, ISBN 9781909399280
<a href="http://www.accdistribution.com/us/store/productdatasheet/9781909399082">Madame Bovary,</a> Gustave Flaubert, ISBN 9781909399082
<a href="http://www.accdistribution.com/us/store/productdatasheet/9781909399099">Notes From Underground</a> Fyodor Dostoyevsky, ISBN 9781909399099
<a href="http://www.accdistribution.com/us/store/productdatasheet/9781909399266">The Good Soldier,</a> Ford Madox Ford, ISBN 9781909399266
<a href="http://www.accdistribution.com/us/store/productdatasheet/9781909399051">The Hound of the Baskervilles,</a> Arthur Conan Doyle, ISBN 9781909399051
<a href="http://www.accdistribution.com/us/store/productdatasheet/9781909399006">The Picture of Dorian Grey,</a> Oscar Wilde, ISBN 9781909399006
<a href="http://www.accdistribution.com/us/store/productdatasheet/9781909399303">The Prince,</a> Niccolo Machiavelli, ISBN 9781909399303
<a href="http://www.accdistribution.com/us/store/productdatasheet/9781909399020">The Scarlet Letter,</a> Nathaniel Hawthorne, ISBN 9781909399020
<a href="http://www.accdistribution.com/us/store/productdatasheet/9781909399242">The Thirty-nine Steps, John Buchan, ISBN 9781909399242
<a href="http://www.accdistribution.com/us/store/productdatasheet/9781909399297">The Trial,<a> Franz Kafka, ISBN 9781909399297
<a href="http://www.accdistribution.com/us/store/productdatasheet/9781909399259">What is Art?</a> Leo Tolstoy, ISBN 9781909399259
<a href="http://www.accdistribution.com/us/store/productdatasheet/9781909399075">Wuthering Heights,</a> Emily Brontë, ISBN 9781909399075
<a href="http://www.accdistribution.com/us/store/productdatasheet/9781909399068">Frankenstein,</a> Mary Shelley, ISBN 9781909399068
<a href="http://www.accdistribution.com/us/store/productdatasheet/9781909399495">Emma,</a>Jane Austen, ISBN 9781909399495
<a href="http://www.accdistribution.com/us/store/productdatasheet/9781909399556">Venus in Furs,</a>Leopold von Sacher-Masoch, ISBN 9781909399556