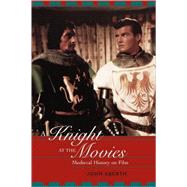 Note: Supplemental materials are not guaranteed with Rental or Used book purchases.
ISBN: 9780415938860 | 0415938864
Cover: Paperback
Copyright: 7/29/2003
Long beforeMonty Python and the Holy Grail, Hollywood's version of the Middle Ages had sometimes been laughable. Who can resist chuckling atThe Black Knight(1954), in which Arthurian warriors ride across a plain complete with telephone poles in the background? OrThe Black Shield of Falworth(1954), in which Tony Curtis-in his best medieval Bronx accent-utters the immortal line, "Yonda is the castle of my fodda"? These films may not be paragons of historical accuracy, but much of what we know-or think we know-about the Middle Ages has been dictated by what we've seen on the movie screen. In this entertaining and deeply informative book, John Aberth-author of From the Brink of the Apocalypse-assesses the historical accuracy of well known cinematic interpretations of the Middle Ages. Separating fact from fiction in more than fifty films from the silent era to today, includingCamelot, Excalibur, Braveheart, andThe Adventures of Robin Hood, Aberth shows how narrativelicense routinely makes the distant era familiar by projecting contemporary obsessions and fears onto the past. These stock images of knights in shining armor and damsels in distress rarely sum up real life in the Middle Ages. Instead, the best and most thought-provoking works-like Ingmar Bergman'sThe Seventh Seal-revel in the differences between those times and our own, drawing us into another world in order to understand and appreciate the differences. With provocative insight into the blurred lines between medieval fact and fiction, both history buffs and film aficionados will find much food for thought here.