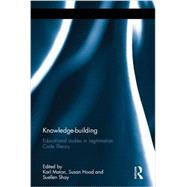 Note: Supplemental materials are not guaranteed with Rental or Used book purchases.
ISBN: 9780415692335 | 0415692334
Cover: Hardcover
Copyright: 10/22/2015
We are said to live and learn in knowledge societies " that require 'lifelong learning', but knowledge itself is absent from many accounts of contemporary social and educational change. This key volume illustrates an approach that places knowledge at the heart of analysis: Legitimation Code Theory. Building on the work of Basil Bernstein, Pierre Bourdieu, systemic functional linguistics and critical realism, Legitimation Code Theory is a social realist approach that is increasingly influential in the sociology of education, educational studies and linguistics. This selection of original papers by an international and multi-disciplinary group of scholars provides the first book-length illustration of the value of this fast-growing approach. It represents a genuinely collaborative endeavour that aims to build knowledge about knowledge, both within and beyond formal education. Part I of the book shows how Legitimation Code Theory enables knowledge-building in research by enabling different approaches, methodologies and practices to be brought together. Drawing on current empirical studies, chapters show how the theory can be used in quantitative research, in qualitative research, in interdisciplinary research with systemic functional linguists, and in praxis to create e-learning environments. Part II shows the practical value of the approach by addressing pressing problems facing contemporary education in building knowledge across boundaries and contexts. Chapters discuss current research into: segmented learning, where students struggle to transfer their knowledge to future contexts of learning or work; the crisis in physics teaching; the damaging effects of constructivist pedagogy on international students; academic literacies; the crisis in school Music; transformations of university curriculum; bridging the theory-practice ÷ bringing professions into higher education; and relations between formal and informal learning. The book encompasses a wide range of subject areas (including history, English, physics, journalism, nursing) and educational sites (school and university), as well as informal learning contexts (masonic lodges and museums). Carefully selected, sequenced and interrelated, these wide-ranging chapters form a coherent and original collection and give a unique insight into one of the most thought-provoking and innovative ways of understanding the role of knowledge in education and society to have emerged in recent years.