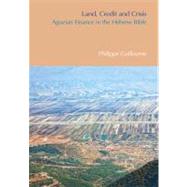 Note: Supplemental materials are not guaranteed with Rental or Used book purchases.
ISBN: 9781845539276 | 1845539273
Cover: Hardcover
Copyright: 8/21/2014
Philippe Guillaume uses recent work on the economies of ancient Mesopotamia, Egypt and Ottoman Syria to shed new light on the texts of the Hebrew scriptures. Guillaume offers a new perspective on biblical texts relative to farming (Naboth's vineyard, Ruth, the Shunamite, Job, Nehemiah 5 and others) and challenges some exegetical shibboleths such as private property, latifundia, absentee landlord, foreclosure, landless farmers, parasitic cities, usury, and the presentation of farmers as helpless victims. Guillaume shows that biblical Palestine was characterized by an over-abundance of arable land and a chronic lack of manpower and of agricultural credit. Prophetic fulminations against merchants and the rich should not be taken at face value. Instead, they need to be understood in the framework of patronage. Guillaume challenges the notion of the biblical prophet as a champion of social justice and instead offers a fresh assessment of the three pillars of the biblical financial system: the seventh-year shemittah, the jubilee and the ban on interest.