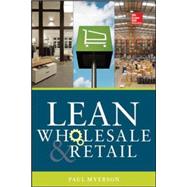 Note: Supplemental materials are not guaranteed with Rental or Used book purchases.
ISBN: 9780071829854 | 0071829857
Cover: Hardcover
Copyright: 4/8/2014
Best practices for implementing Lean techniques in retail and wholesale
"Lean Retail & Wholesale is a highly insightful and succinct guide to lean application and a valuable resource for any retailer or wholesaler seeking a competitive edge." --APICS Magazine, January/February 2015
"Essential reading for those who want to learn how Lean provides a competitive edge in today's fast-paced, multi-channel, and cost-conscious environment." --Mark Temkin, Director, Demand Planning, Barnes & Noble, Inc.
"Provides an enlightening perspective on the applications of Lean principles to the increasingly challenging worlds of the retail and wholesale sectors." --Professor C. John Langley, Jr., Penn State University
Featuring real-world case studies, this practical, streamlined guide reveals how utilize a comprehensive Lean methodology throughout retail and wholesale businesses to reduce costs and improve productivity, quality, customer service, and profitability. Lean Retail and Wholesale examines Lean opportunities from the viewpoint of retail strategy, merchandise management, and store and distribution operations and provides a holistic, systematic approach for identifying and eliminating non-value-added activities. The Lean techniques presented can be applied to traditional brick-and-mortar wholesalers and retailers as well as e-businesses.
Coverage includes:
Using Lean as a tool to survive and thrive in retail and wholesale
(R)evolution of retail--from the general store to e-commerce
The Lean journey from goods to services
Lean retail and wholesale: early signs of promise
Basic Lean concepts and tools: building a solid foundation
Advanced Lean concepts and tools: K.I.S.S. (keep it simple and straightforward)
Retail strategy: sales and marketing, location, human resources management, IT, supply chain management, and customer relationship management
Merchandise management: planning, buying, pricing, and communications
Store operations management
Lean retail and wholesale distribution
Lean assessments and value stream mapping
Leadership, culture, teams, and training
Partnering, outsourcing, import, technology, and Six Sigma
Critical thinking and continuous improvement: methodology, education, training, and analytics
Defining and measuring success—measurements and current statistics
The road ahead: thoughts and suggestions on the future of Lean in retail and wholesale