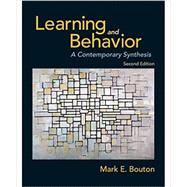 Note: Supplemental materials are not guaranteed with Rental or Used book purchases.
ISBN: 9780878933853 | 0878933859
Cover: Paperback
Copyright: 3/22/2016
Research on fundamental learning processes continues to tell an important and interesting story. In the second edition of Learning and Behavior: A Contemporary Synthesis, Mark Bouton recounts that story, providing an in-depth but highly readable review of modern learning and behavior theory that is informed by the history of the field. The text reflects the author's conviction that the study of animal learning has a central place in psychology, and that understanding its principles and theories is important for students, psychologists, and scientists in related disciplines (e.g., behavioral neuroscience and clinical psychology).

Almost all of the chapters are organized to illustrate how knowledge is accumulated through the systematic development of theory and research. The book opens with a brief history that connects the modern issues with their philosophical and biological roots. Chapter 2 addresses the idea that basic learning processes are designed to help an organism adapt to a changing world; in the process, it introduces the reader to a wide range of interesting examples of learning. After analyzing some fundamental phenomena in Pavlovian learning, the book then provides a very clear and readable review of modern conditioning theories since the Rescorla-Wagner model, discusses memory retrieval and behavior-system processes that govern performance, and addresses the question of whether the laws of learning and behavior uncovered in the laboratory maze and Skinner box have generality-by studying learning in honey bees and categorization and causal judgments and proposition learning in humans. Instrumental learning is then discussed from various perspectives in chapters on behavior and its consequences (research in behavior analysis and behavioral economics), how stimuli guide instrumental action (a survey of the field of animal cognition), and how motivation influences instrumental action. The final chapter reviews and integrates the major themes of the book, describing avoidance learning, learned helplessness, and related examples of learning before reviewing the modern cognitive and synthetic perspective on instrumental action.

Lively and current, Learning and Behavior: A Contemporary Synthesis, Second Edition, engages students while illustrating the interconnectedness of topics within the field and the excitement of modern research.

For Students

Companion Website

The Learning and Behavior, Second Edition, Companion Website includes resources to help students learn and review the content of each chapter and test their understanding of the concepts presented in the textbook. The site includes the following resources:

- Chapter Outlines
- Chapter Summaries
- Flashcards
- Glossary
- Online quizzes

For Instructors

Instructor's Resource Library (available to qualified adopters)

The Learning and Behavior, Second Edition, Instructor's Resource Library includes the following resources:

* Textbook Figures & Tables: All of the textbook's figures (including photos) and tables are provided in both JPEG (high- and low-resolution) and PowerPoint formats. All images have been formatted and optimized for excellent legibility when projected.

* Instructor's Manual: The Instructor's Manual includes the following sections for each chapter of the textbook:
- Chapter Outline
- Learning Objectives
- Class Discussion and Critical Thinking Exercises
- Suggested Additional Resources
- Key Terms

* Lecture Presentations: New for the Second Edition, these ready-to-use PowerPoint presentations cover all the key material in each chapter, and include selected figures and tables.

* Test Bank: A comprehensive set of exam questions is provided for each chapter of the textbook, in both multiple-choice and short-answer formats (Companion Website online quiz questions also included). New for the Second Edition, each question is referenced to Bloom's Taxonomy and to textbook sections. The Test Bank is provided in several formats:
- Word files, by chapter
- Diploma test creation program (software included). Diploma makes it easy to create quizzes and exams using any combination of publisher-provided questions and your own questions. Diploma also exports to a wide range of formats for import into learning management systems such as Blackboard, Moodle, and Desire2Learn.
- Blackboard files, for easy import into your Blackboard course

Online Quizzing

The online quizzes that are part of the Learning and Behavior, Second Edition, Companion Website include an instructor administration interface that allows the quizzes to be used as assignments. Instructors also have the ability to create their own quizzes and add their own questions.