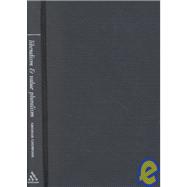 Note: Supplemental materials are not guaranteed with Rental or Used book purchases.
ISBN: 9780826450487 | 0826450482
Cover: Hardcover
Copyright: 4/30/2002
Value pluralism is the idea, associated with the late Isaiah Berlin, that fundamental human values are irreducibly plural and incommensurable. Ends like liberty, equality and community are intrinsic goods which can neither be ranked in an absolute hierarchy nor translated into units of a common denominator. If that is true, how can we choose among such values when they come into conflict in particular cases? In particular, what reason is there to justify the value ranking characteristic of liberal democracy, favouring personal autonomy and toleration? Recent commentators have seen value pluralism as undermining the traditional claims of liberalism to universal authority, rendering it at best no more than one political form among others with no greater claim to legitimacy. Against that view, George Crowder argues that a strong distinctive case for liberalism as a universal project is implied by value pluralism itself. Reflection on the elements of value pluralism yields a set of ethical principles, including respect for universal values, rejection of political utopianism, promotion of value diversity, accommodation of reasonable disagreement, and cultivation of civic virtues. Those principles are best satisfied by a liberal form of politics characterised by a strong commitment to personal autonomy, by policies of moderate redistribution and multiculturalism, and by constitutional restraints on democractic politics. This is the first book-length defence of liberalism on the basis of value pluralism, complementing and extending the work of Berlin and others.