The Line Which Separates: Race, Gender, And The Making Of The Alberta- Montana Borderlands
, by
McManus, Sheila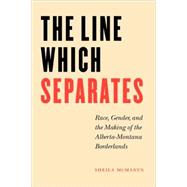 Note: Supplemental materials are not guaranteed with Rental or Used book purchases.
ISBN: 9780803283084 | 0803283083
Cover: Paperback
Copyright: 6/1/2005
Nations are made and unmade at their borders, and the forty-ninth parallel separating Montana and Alberta in the late nineteenth century was a pivotal Western site for both the United States and Canada. Blackfoot country was a key site of Canadian and American efforts to shape their nations and national identities. The region's landscape, aboriginal people, newcomers, railroads, and ongoing cross-border ties all challenged the government's efforts to create, colonize, and nationalize the Alberta-Montana borderlands.The Line Which Separatesmakes an important and useful comparison between American and Canadian government policies and attitudes regarding race, gender, and homesteading. Federal visions of the West in general and the borderlands in particular rested on overlapping sets of assumptions about space, race, and gender; those same assumptions would be used to craft the policies that were supposed to turn national visions into local realities. The growth of a white female population in the region, which should have "whitened" and "easternized" the region, merely served to complicate emerging categories. Both governments worked hard to enforce the lines that were supposed to separate "good" land from "bad," whites from aboriginals, different groups of newcomers from each other, and women's roles from men's roles. The lines and categories they depended on were used to distinguish each West, and thus each nation, from the other. Drawing on a range of sources, from government maps and reports to oral testimony and personal papers,The Line Which Separatesexplores the uneven way in which the borderlands were superimposed on Blackfoot country in order to divide a previously cohesive region in the late nineteenth century. Sheila McManus is an assistant professor of history at Lethbridge University in Alberta, Canada.