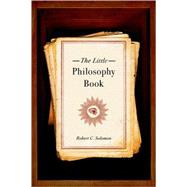 Note: Supplemental materials are not guaranteed with Rental or Used book purchases.
ISBN: 9780195311143 | 0195311140
Cover: Paperback
Copyright: 10/1/2007
The Little Philosophy Book provides a concise and engaging introduction to deep and perennial philosophical questions. In a lively and accessible style, acclaimed author Robert C. Solomon leads students and other readers through an exploration of the self, the universe, and the nature of truthand morality, posing such questions as "Who are we, really?" "Why are we here?" and "How should we live?" The Little Philosophy Book begins with a quick tour of ancient philosophy that ranges from Socrates' Greece, to Vedic India, to Confucian, Daoist, and Buddhist China, and to the Middle East. The book goes on to examine consciousness, from Descartes' "I think, therefore I am" to phenomenologyand the mind-body problem. It then considers God, nature, and spirituality; cosmology; freedom and responsibility; and morality and ethics, ending with an examination of happiness and the meaning of life and the role of philosophy in determining both. Solomon covers topics that are often omittedfrom other introductions, including existentialism, phenomenology, spirituality, and death. Throughout, he incorporates material on key figures and traditions in philosophy, showing how some of history's most important thinkers and movements have addressed fundamental philosophical issues. Key termsand major figures are listed at the end of each chapter. An ideal introduction for students and novices, The Little Philosophy Book does not provide any definitive answers to universal philosophical questions, but instead encourages readers to think for themselves and to integrate philosophy into their own lives.