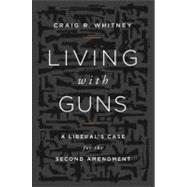 Note: Supplemental materials are not guaranteed with Rental or Used book purchases.
ISBN: 9781610391696 | 1610391691
Cover: Hardcover
Copyright: 11/13/2012
A well regulated Militia, being necessary to the security of a free State, the right of the people to keep and bear Arms, shall not be infringed. Are these 27 words of the Second Amendment lethal? Are the deaths of 30,000 Americans by gunfire every year the price of our freedoms protected by the Constitution? Has the powerful gun lobby guaranteed that Americans will own more guns than people in any other country on earth? And are gun controls an effective way to control gun violence anyway? Craig Whitney carried a handgun as a Navy officer in Saigon during the Vietnam War. As a foreign correspondent and later an editor at the New York Times, when baffled foreign friends asked why there were so many guns and so many violent shootings in America, he wondered for himself what the truth was. In Living with Guns, he seeks out answers. Whitney returns to the early colonial history that set the framers on course for reserving to citizens the right to bear arms, tracks the political battles that led to the contemporary impasse on the subject, and talks to gun owners themselves. The result is an effort to forge a third way into the argument: a liberal gun-owner's fresh perspective on which gun control battles are worth fighting, and where we can still seek out common ground.