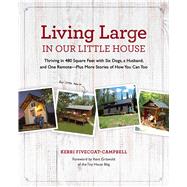 Note: Supplemental materials are not guaranteed with Rental or Used book purchases.
ISBN: 9781621452522 | 1621452522
Cover: Hardcover
Copyright: 6/7/2016
Based on the successful blog, Living Large in Our Little House, the book is a practical and inspirational memoir about the joy and freedom of tiny house living.

Traditionally, the American Dream has included owning a house, and until recently that meant the bigger the better. McMansions have flourished in suburbs across the country, and as houses got bigger we filled them with more stuff. Kerri Fivecoat-Campbell had been subconsciously trying to live up to this American Dream when circumstances forced her and her husband into a 480-square foot house in the woods. What was supposed to be a writing cabin and guest house became their full-time abode and they quickly discovered that they had serendipitously discovered a better way of life.

They realized that by living smaller, they were in fact, living large--they were not spending extra time cleaning and maintaining the house, but had the freedom to pursue their hobbies; they did not waste money on utilities or things they didn't need; they were more environmentally aware; and they grew emotionally (as well as physically) closer. The lightbulb went on when Kerri and her husband realized that living large is less about square footage and more about a state of mind. As Kerri relates the story of her transformation to a "living larger," she offers practical advice for how others can cut space without sacrificing on quality of life. She'll walk readers through the financial advantages of small space living; help readers define and find the right size house; show how to scale down to the essentials to be surrounded only by things we love; make use of outdoor space; decorate judiciously, and much more. Whether readers are inspired to join the Tiny House movement or not, they are sure to be inspired to live large with less.