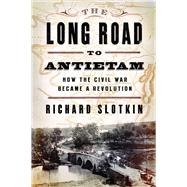 Note: Supplemental materials are not guaranteed with Rental or Used book purchases.
ISBN: 9780871406651 | 0871406659
Cover: Trade Paper
Copyright: 7/17/2013
In the summer of 1862, aftera year of protracted fighting, Abraham Lincoln decided on a radical change ofstrategy-one that abandoned hope for a compromise peace and committed thenation to all-out war. The centerpiece of that new strategy was theEmancipation Proclamation: an unprecedented use of federal power that wouldrevolutionize Southern society. In The Long Road to Antietam, Richard Slotkin, a renowned cultural historian, reexaminesthe challenges that Lincoln encountered during that anguished summer 150 yearsago. In an original and incisive study of character, Slotkin re-creates theshowdown between Lincoln and General George McClellan, the Young Napoleonwhose opposition to Lincoln included obsessive fantasies of dictatorship and amilitary coup. He brings to three-dimensional life their ruinous conflict,demonstrating how their political struggle provided Confederate General RobertE. Lee with his best opportunity to win the war, in the grand offensive thatended in September of 1862 at the bloody Battle of Antietam.