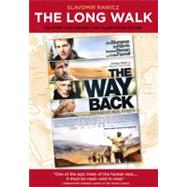 Note: Supplemental materials are not guaranteed with Rental or Used book purchases.
ISBN: 9781599219752 | 1599219751
Cover: Paperback
Copyright: 11/16/2010
MORE THAN HALF A MILLION COPIES SOLD! The classic adventure story that inspired the new major motion picture The Way Back,directed by Peter Weir I hopeThe Long Walk will remain as a memorial to all those who live and die for freedom, and for all those who for many reasons could not speak for themselves. Slavomir Rawicz A poet with steel in his soul. New York Times One of the most amazing, heroic stories of this or any other time. Chicago Tribune A book filled with the spirit of human dignity and the courage of men seeking freedom. Los Angeles Times The Long Walk is a book that I absolutely could not put down and one that I will never forget. Stephen Ambrose, historian and presidential biographer One of the epic treks of the human race. Shackleton, Franklin, Amundsen. . . . History is filled with people who have crossed immense distances and survived despite horrific odds. None of them, however, has achieved the extraordinary feat Rawicz has recorded. He and his companions crossed an entire continent--the Siberian arctic, the Gobi desert and then the Himalayas--with nothing but an ax, a knife, and a week's worth of food. . . . His account is so filled with despair and suffering it is almost unreadable. But it must be read and re-read. Sebastian Junger, author ofThe Perfect Storm In 1941, the author and six fellow prisoners of war escaped a Soviet labor camp in Yakutsk a camp where enduring hunger, cold, untended wounds, and untreated illnesses, and avoiding daily executions were everyday feats. Their march over thousands of miles by foot out of Siberia, through China, the Gobi Desert, Tibet, and over the Himalayas to British India is a remarkable statement about man's desire to be free. Written in a hauntingly detailed, no-holds-barred way, the book inspired the Peter Wier filmThe Way Back,due for release in late 2010. Previous editions have sold hundreds of thousands of copies; this edition includes an afterword written by the author shortly before his death, as well as the author's introduction to the book's Polish edition. Guaranteed to forever stay in the reader's mind,The Long Walk will remain a testament to the strength of the human spirit, and the universal desire for freedom and dignity. Six-time Academy Award nominee Peter Weir (Master and Commander, The Truman Show,andThe Dead Poets Society) recently directedThe Way Back,a much-anticipated film based onThe Long Walk. Starring Colin Farrell, Jim Sturgess, and Ed Harris, it is due for release in late 2010.