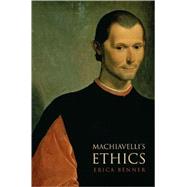 Note: Supplemental materials are not guaranteed with Rental or Used book purchases.
ISBN: 9780691141770 | 0691141770
Cover: Paperback
Copyright: 10/26/2009
Machiavelli's Ethicschallenges the most entrenched understandings of Machiavelli, arguing that he was a moral and political philosopher who consistently favored the rule of law over that of men, that he had a coherent theory of justice, and that he did not defend the "Machiavellian" maxim that the ends justify the means. By carefully reconstructing the principled foundations of his political theory, Erica Benner gives the most complete account yet of Machiavelli's thought. She argues that his difficult and puzzling style of writing owes far more to ancient Greek sources than is usually recognized, as does his chief aim: to teach readers not how to produce deceptive political appearances and rhetoric, but how to see through them. Drawing on a close reading of Greek authors--including Thucydides, Xenophon, Plato, and Plutarch--Benner identifies a powerful and neglected key to understanding Machiavelli.This important new interpretation is based on the most comprehensive study of Machiavelli's writings to date, including a detailed examination of all of his major works:The Prince, The Discourses, The Art of War,andFlorentine Histories. It helps explain why readers such as Bacon and Rousseau could see Machiavelli as a fellow moral philosopher, and how they could viewThe Princeas an ethical and republican text. By identifying a rigorous structure of principles behind Machiavelli's historical examples, the book should also open up fresh debates about his relationship to later philosophers, including Rousseau, Hobbes, and Kant.