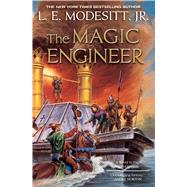 Note: Supplemental materials are not guaranteed with Rental or Used book purchases.
ISBN: 9780765374004 | 0765374005
Cover: Paperback
Copyright: 1/14/2014
"An intriguing fantasy in a fascinating world, with characters who catch you up." —Robert Jordan,New York Times Bestselling author of The Wheel of Time® series
Dorrin, a young scion of the Order magicians, is interested in forbidden knowledge, in the working of machines. Promising, intelligent, but determined to follow his passion for scientific knowledge, Dorrin can invent machines. He is the Leonardo da Vinci of his age, but his insights violate the rules of the Order magic of Recluce. Now he must go into exile in the lands of Chaos to pursue his dangerous inventions.
Yet Dorrin remains loyal to the idea of Order, and is tortured by the knowledge that to preserve it he must constantly create new devices for war. For the forces of the Chaos wizards are moving across the land, devouring whole countries and creating an empire—and their ultimate goal is the destruction of Recluce.
L.E. Modesitt, Jr.'s bestselling fantasy novels set in the magical world of Recluce are among the most popular in contemporary fantasy. Each novel tells an independent story that nevertheless reverberates though all the other books in the series, to deepen and enhance the reading experience. Rich in detail, the Recluce books are a feast of wondrous marvels.
Saga of Recluce
#1 The Magic of Recluce
#2 The Towers of Sunset
#3 The Order War
#4 The Magic Engineer
#5 The Death of Chaos
#6 Fall of Angels
#7 The Chaos Balance
#8 The White Order
#9 Colors of Chaos
#10 Magi'i of Cyador
#11 Scion of Cyador
#12 Wellspring of Chaos
#13 Ordermaster
#14 Natural Order Mage
#15 Mage-Guard of Hamor
#16 Arms-Commander
#17 Cyador's Heirs
#18 Heritage of Cyador
#19 The Mongrel Mage (forthcoming)
Story Collection: Recluce Tales
Other Series by L.E. Modesitt, Jr.
The Imager Portfolio
The Corean Chronicles
The Spellsong Cycle
The Ghost BooksThe Ecolitan Matter