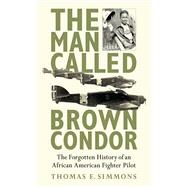 Note: Supplemental materials are not guaranteed with Rental or Used book purchases.
ISBN: 9781620872178 | 162087217X
Cover: Hardcover
Copyright: 2/17/2013
How dida black child, growing up in segregationist Mississippi during the early 1900s,become the commander of the Imperial Ethiopian Air Corps during the brutalItalo-Ethiopian War of 1935? In this gripping, never-before-told tale, biographerThomas E. Simmons brings to life Robinson's outstanding success in becoming apilot, his expertise in building and assembling his own working aircraft, hisinfluence on the establishment of a school of aviation at Tuskegee Institute(there would have been no Tuskegee Airmen without him), and his courageouswartime service in Ethiopia during the Italian invasion in 1935-for which hewon international fame. It was during Robinson's service to Ethiopia that hetook to the air to combat the first Fascist invasion of what would become WorldWar II. This remarkable hero may have been the first American to oppose Fascismin combat. When Ethiopia was freed by British troops during World War II, HaileSelassie asked Robinson to return to Ethiopia to help reestablish the EthiopianAir Force. For Robinson and the five men he picked to go with him, just gettingto Ethiopia in wartime 1944 was an adventure in itself. Overthe last twenty-three years, the author has performed original research on JohnC. Robinson when very little information on this remarkable American hero wasavailable. The Man Called Brown Condorencompasses a vast amount of information based on obscure, forgotten, andheretofore undiscovered facts. Thiswork is more than the definitive biography of a black pilot who became a UShero, only to be unfairly forgotten. It provides insight on racial conditionsin the first half of the twentieth century and illustrates the politicalintrigue within a League of Nations afraid to face the rise of Fascism. The Man Called Brown Condor isa new, exciting, heroic adventure in history, and provides the reader with anunforgettable story of an incredible American hero.