Mao's Great Famine The History of China's Most Devastating Catastrophe, 1958-1962
, by
Dikötter, Frank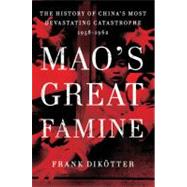 Note: Supplemental materials are not guaranteed with Rental or Used book purchases.
ISBN: 9780802777683 | 0802777686
Cover: Hardcover
Copyright: 10/1/2010
"Between 1958 and 1962, China descended into hell. Mao Zedong threw his country into a frenzy with the Great Leap Forward, an attempt to catch up to and overtake Britain in less than 15 years The experiment ended in the greatest catastrophe the country had ever known, destroying tens of millions of lives."
So opens Frank Dikötter's riveting, magnificently detailed chronicle of an era in Chinese history much speculated about but never before fully documented because access to Communist Party archives has long been restricted to all but the most trusted historians. A new archive law has opened up thousands of central and provincial documents that fundamentally change the way one can study the Maoist era. Dikötter makes clear, as nobody has before, that far from being the program that would lift the country among the world's superpowers and prove the power of Communism, as Mao imagined, the Great Leap Forward transformed the country in the other direction. It became the site not only of one of the most deadly mass killings of human history, "at least 45 million people were worked, starved, or beaten to death but also of the greatest demolition of real estate in human history, as up to one-third of all housing was turned into rubble.
"The most authoritative and comprehensive study of the biggest and most lethal famine in history. A must read."-Jung Chang, author of Mao: The Unknown Story
"Mao's Great Famine is a gripping and masterful portrait of the brutal court of Mao, based on new research but also written with great narrative verve, that tells the gripping story of the manmade famine that killed 45 million people, from the dictator and his henchmen down to the villages of rural China."-Simon Sebag Montefiore, author of Stalin: The Court of the Red Tsar
"Despite Beijing's new openness over the past few decades, there are still whole parts of contemporary Chinese history that Party officials have managed to keep largely hidden from the scrutiny of the outside world. The 1959-60 Great Leap Forward, Mao's epic effort of revolutionary will power to force China's peasantry into socialism through the rapid communization of agriculture, is such a period. However, by managing to gain access to unplumbed regional Chinese archives and other new materials, Frank Dikotter has helped throw back the shroud on this period of monumental, man-made catastrophe. With both narrative vigor and scholarly rigor, Mao's Great Famine documents how Mao Zedong's impetuosity was not only the demise of many of his far more politically level headed comrades in arms, but also of tens of millions of ordinary Chinese who perished unnecessarily in this spasm of revolutionary extremism."-Orville Schell, Author and Director of the Center on US-China relations at the Asia Society