Mark and its Subalterns: A Hermeneutical Paradigm for a Postcolonial Context
, by
Joy,David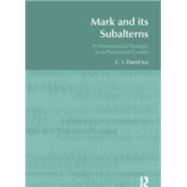 Note: Supplemental materials are not guaranteed with Rental or Used book purchases.
ISBN: 9781845533274 | 1845533275
Cover: Hardcover
Copyright: 8/21/2014
This book offers a fresh appraisal of the identity and involvement of the subalterns in Mark, arguing that the presence of the subalterns in Mark is a possible hermeneutical tool for re-reading the Bible in a postcolonial context like India. Part I Hermeneutics: General Methodological Considerations paves the way for a creative discussion on Mark and its interpreters in the rest of the study by looking at the issue of the spread of Christianity and missionary attempts at biblical interpretations that did not take the life of the natives into account. Many insights from the postcolonial situation can be found in the contextual interpretations such as liberation, feminist, postcolonial feminist and subaltern. Part II- Mark: Context and Interpretation considers colonial rule in Palestine and examines some Markan texts showing the potential role of the subalterns. It is argued that due to colonial rule, the native people suffered in terms of their identity, religion and culture. There was conflict between Galilee and Jerusalem mainly on religious issues. The victims of domination were the poor peasants and the artisans in Galilee. A dialogue and interaction with the Markan milieu was possible in the research and so the marginal and subaltern groups were effectively understood by exegeting Mark 10:17-31, 7:24-30 and 5:1-20 and showing the postcolonial issues such as the poor and their representation, gender, race, hybridity, class, nationalism, and purity respectively. The subalterns were mainly associated with movements of resistance in Palestine. The Markan proclamation of solidarity with those subalterns is significant. The general conclusion presents the implications of this interpretation for a hermeneutical paradigm for a postcolonial context.