Marketing to Moviegoers : A Handbook of Strategies and Tactics
, by
Marich, Robert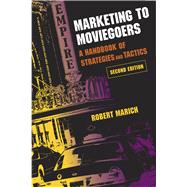 Note: Supplemental materials are not guaranteed with Rental or Used book purchases.
ISBN: 9780809328840 | 0809328844
Cover: Paperback
Copyright: 1/23/2009
While Hollywood executives spend millions of dollars making movies, even more money is poured into selling those films to the public. In the second edition of his comprehensive guidebook,Marketing to Moviegoers, veteran film and TV journalist Robert Marich plumbs the depths of the strategies and tactics used by studios to market their films to consumers. Packed with real life examples and useful data, this new edition blends practical, up-to-date information with theory to clearly explain all aspects of promoting motion pictures. Marketing to Moviegoers: A Handbook of Strategies and Tacticstakes readers carefully through all of the key components of film marketing. From creative strategy, market research, and advertising to publicity, product placement, and distribution to theaters, Marich's book covers everything film professionals need to know to mount a successful marketing campaign. Each chapter contains a wealth of useful information--including the historical background of the business, sample market research documents and advertising budgets, comments from successful industry insiders, and over thirty-five tables--and offers intriguing insight into the strategies of modern promotion. Most other film marketing books focus mainly on marketing by independent distributors, but Marich specifically outlines the marketing methods of the six major Hollywood studios, which are notoriously secretive about these methods, while also detailing the marketing plans of the independent and foreign film sectors. In addition, he examines in depth the effectiveness of both new and old media, especially the ways in which the advent of the Internet has both helped and hindered the movie marketing process. While many books have been written on the business-to-business aspect of film promotion, Marich's volume is one of the few that focuses on the methods used to sell motion pictures to those who truly make or break a film's success--the public. This essential reference contains detailed examples, more than twenty illustrations, and a comprehensive glossary of marketing terms. A highly navigable handbook that breaks down a complicated process into manageable strategies in an easy-to-read style,Marketing to Moviegoersis a must for all film professionals and filmmaking students.