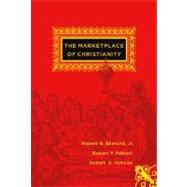 Note: Supplemental materials are not guaranteed with Rental or Used book purchases.
ISBN: 9780262550710 | 0262550717
Cover: Paperback
Copyright: 10/31/2008
This startlingly original (and sure to be controversial) account of the evolution of Christianity shows that the economics of religion has little to do with counting the money in the collection basket and much to do with understanding the background of today's religious and political divisions. Since religion is a set of organized beliefs, and a church is an organized body of worshipers, it's natural to use a science that seeks to explain the behavior of organization-economics-to understand the development of organized religion. The Marketplace of Christianityapplies the tools of economic theory to illuminate the emergence of Protestantism in the sixteenth century and to examine contemporary religion-influenced issues, including evolution and gay marriage. The Protestant Reformation, the authors argue, can be seen as a successful penetration of a religious market dominated by a monopoly firm-the Catholic Church. The Ninety-five Theses nailed to the church door in Wittenberg by Martin Luther raised the level of competition within Christianity to a breaking point. The Counter-Reformation, the Catholic reaction, continued the competitive process, which came to include "product differentiation" in the form of doctrinal and organizational innovation. Economic theory shows us how Christianity evolved to satisfy the changing demands of consumers-worshipers. The authors of The Marketplace of Christianityavoid value judgments about religion. They take preferences for religion as given and analyze its observable effects on society and the individual. They provide the reader with clear and nontechnical background information on economics and the economics of religion before focusing on the Reformation and its aftermath. Their analysis of contemporary hot-button issues-science vs. religion, liberal vs. conservative, clerical celibacy, women and gay clergy, gay marriage-offers a vivid illustration of the potential of economic analysis to contribute to our understanding of religion.