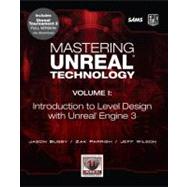 Note: Supplemental materials are not guaranteed with Rental or Used book purchases.
ISBN: 9780672329913 | 0672329913
Cover: Paperback
Copyright: 7/21/2009
Unreal Engine 3 is the gaming platform for today's hottest games, period. It is the primary development platform for the Xbox 360, the PlayStation 3, and a massive force in the PC gaming world. Unreal Engine 3 is the technology that works behind the scenes to actually put the video game on the screen.
It handles all of the visuals, sounds, and takes in everything the user does (such as push buttons or move a mouse) in order to deliver the final gaming experience to the player. It is the core of the actual game, without which the game could not exist.
The creators of Unreal, Epic Games, have extended their full cooperation in the writing of the book. The authors are widely known in the industry, through the previous edition and through the specialized training mods they supplied as part of the hit game Unreal Tournament 2004. Starting from the very basics, this book walks you through the entire process of level design, covering Unreal's level editing application, UnrealEd, and many key topics you'll need to create your own gaming environments.
Youíll find expert tips on:
-Understanding the game development process from start to finish
-Planning projects for greater efficiency, faster delivery, and better quality
-Crafting worlds with stunning beauty and clarity
-Bringing amazing realism to characters, objects, and props
-Making the most of Unreal Engine 3ís massively upgraded lighting system
-Scripting complex gameplay quickly and easily with Unreal Kismet
-Building animated game assets with Unreal Matinee
-Testing game performance during live gameplay
-Optimizing levels by improving the interaction between lights and surfaces
-Using advanced level streaming to create vast, rich, highly playable levels
This book will bring you into the world of game development and modding with thorough and easy-to-understand explanations, in-depth tutorials, and all the information you need to start creating your own Unreal environments.