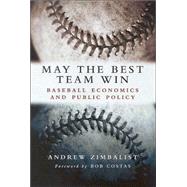 Note: Supplemental materials are not guaranteed with Rental or Used book purchases.
ISBN: 9780815797289 | 0815797281
Cover: Hardcover
Copyright: 3/1/2003
The business of baseball stands in sharp contrast to the game's wholesome image as America's favorite pastime. Major league baseball is a deeply troubled industry, facing chronic problems that threaten its future: persistent labor tensions, competitive dominance by high-revenue teams, migration of game telecasts to cable, and escalating ticket prices. Amid the threat of contraction, existing franchises are demanding public subsidies for new stadiums, while viable host cities are begging for teams. The game's core base of fans is aging, and MLB is doing precious little to attract a younger audience. According to Andrew Zimbalist, these problems have a common cause: monopoly. Since 1922 MLB has benefited from a presumed exemption from the nation's antitrust laws. It is the only top-level professional baseball league in the country, and each of its teams is assigned an exclusive territory. Monopolies have market power, which they use to derive higher returns, misallocate resources, and take advantage of consumers. Major league baseball is no exception.In May the Best Team Win, Zimbalist provides a critical analysis of the baseball industry, focusing on the abuses and inefficiencies that have plagued the game since the 1990s, when franchise owners appointed their colleague Bud Selig as MLB's "independent" commissioner. Run by a shrinking and self-selecting group of owners subject to no oversight, MLB suffers from a lack of competitive pressure. Several large franchises are owned by media companies that have shackled their teams to lucrative broadcast and cable contracts --often making it impossible for fans to see games on television. Others own entities that do business with the teams, charging inflated prices for facility management, concessions, and catering. Complex intracompany transactions can reduce franchise revenues substantially, causing operating losses for teams while the owners still make millions. Zimbalist estimates that tens of millions of dollars are sheltered from MLB revenue each year --more than enough to eliminate the operating losses that led Selig to claim contraction and other radical remedies as fiscal necessities.Zimbalist believes that many of baseball's problems would be effectively addressed by removing the industry's presumed antitrust exemption. He urges reconsideration of baseball's antitrust status, encouraging legislation to force monopoly cable providers to de-bundle their services, along with private initiatives to cultivate the game's fan base, such as offering special ticket prices for families, allowing fans on the field after games, and involving players more in community events. Zimbalist also provides MLB with guidelines to reconstruct the incentive system underlying its revenue sharing policies.Zimbalist believes that consumers need an industry that is subject to judicial checks and competitive pressures. Only then will baseball fans be able to put the traumas of the 1990s and early 2000s behind them and utter freely the simple and enduring exhortation: May the best team win!