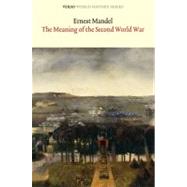 Note: Supplemental materials are not guaranteed with Rental or Used book purchases.
ISBN: 9781844674794 | 1844674797
Cover: Trade Paper
Copyright: 4/18/2011
The very scale of the 193945 war has often tempted historians to study particularcampaigns at the expense of the wider panorama. In this readable and richly detailedhistory of the conflict, the Belgian scholar Ernest Mandel (author of the acclaimed LateCapitalism ) outlines his view that the war was in fact a combination of several distinctstruggles and a battle between rival imperialisms for world hegemony. In concisechapters, Mandel examines the role played by technology, science, logistics, weaponsand propaganda. Throughout, he weaves a consideration of the military strategy of theopposing states into his analytical narrative of the war and its results. The Verso World History Series: This series provides attractive new editions of classic works of history, making landmark texts available to a newgeneration of readers. Covering a timespan stretching from Ancient Greece and Rome to the twentieth century, andwith a global geographical range, the series will also include thematic volumes providing insights into such topics as thespread of print cultures and the history of money.