Medusa's Gaze and Vampire's Bite The Science of Monsters
, by
Kaplan, Matt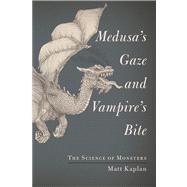 Note: Supplemental materials are not guaranteed with Rental or Used book purchases.
ISBN: 9781451667981 | 1451667981
Cover: Hardcover
Copyright: 10/23/2012
This eye-opening tour through history's legendary monsters and the science and culture that spawned them, provides new insight into the creatures that have terrified us for centuries. We all know "there's no such thing as monsters," but our imaginations may hold a different opinion. Matt Kaplan, a noted science journalist and enthusiast of both the hard facts of science and the fantastic fictions of myth, employs an entertaining mix of cutting-edge research and a love of lore to explain why monsters have held us in such thrall for millennia. Ranging across history, Medusa's Gaze and Vampire's Bitetackles the questions that arise on the frontier between reality and fantasy. What caused ancient Minoans to create the tale of the Minotaur that was imprisoned in a subterranean maze? Did dragons really exist? What inspired the creation of vampires and werewolves, and why have they endured as figures of horror? Kaplan also brings readers to the forefront of scientific discoveries that potentially verify some of the monsters we have always taken for granted. Does the legendary Kraken, a squid of epic proportions, really roam the deep? Are we close to actually replicating a dinosaur from DNA taken from fossilized amber as Jurassic Parkpostulates? As society's fears have changed, monsters have evolved, and the author charts the rise of a new beast, humans.