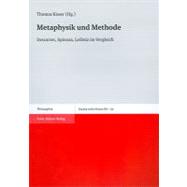 Note: Supplemental materials are not guaranteed with Rental or Used book purchases.
ISBN: 9783515097369 | 3515097368
Cover: Paperback
Copyright: 12/30/2010
English summary: This volume takes Descartes, Spinoza, Leibniz in comparison, meaning maximum nearness and maximum distance at the same time. Maximum nearness in terminology, in problem formation, in the way historical sequences refer to each other, but also in the right to think fundamentally and originally. Maximum distance achieved in the solutions and their evaluations, in the concepts of self-confidence and knowledge, in the understanding of science or the importance of ethics, and the relationship between immanence and transcendence. With a focus on theory of ideas and knowledge, this volume draws this comparison as part of a historical similarity: all three thinkers transform from a more methodically dominated first phase to a metaphysical maturation that becomes stronger and more comprehensive, a change that can not only be understood as a continuity. German text. German description: Descartes, Spinoza, Leibniz im Vergleich, das heisst maximale Nahe und maximale Distanz zugleich. Maximale Nahe in der Terminologie, in der Problemstellung, in der Art in der historischen Reihenfolge aufeinander Bezug zu nehmen, aber auch im Anspruch fundamental und ursprunglich zu denken. Maximale Distanz in den Losungen und deren Bewertungen, den Konzeptionen des Selbstbewusstseins und der Erkenntnis, dem Verstandnis von Wissenschaft oder der Bedeutung der Ethik, dem Verhaltnis von Immanenz und Transzendenz.Der vorliegende Band zieht - mit einem Schwerpunkt in der Theorie der Ideen und der Erkenntnis - diesen Vergleich im Rahmen einer historischen Ahnlichkeit: Alle drei Denker wandeln sich von einer eher methodisch dominierten ersten Phase zu einer umfassender werdenden und gewissermassen starker metaphysischen Reifezeit, eine Wandlung, die nicht nur als Kontinuitat verstanden werden kann.