Michael Collins and the Anglo-Irish War: Britain's Counterinsurgency Failure
, by
Hittle, J. B. E.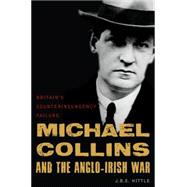 Note: Supplemental materials are not guaranteed with Rental or Used book purchases.
ISBN: 9781597975353 | 1597975354
Cover: Hardcover
Copyright: 10/31/2011
As leader of the Irish Republican Brotherhood and then the Irish Republican Army (IRA), Michael Collins developed a bold new strategy to use against the British administration of Ireland in the early twentieth century. His goal was to attack its well-established system of spies and informers, wear down British forces with a sustained guerrilla campaign, and force a political settlement that would lead to a free Irish Republic. That the Irish insurgency succeeded was not just a measure of Collins'¬"s revolutionary genius, as has often been claimed. British miscalculations, overconfidence, and a failure to mount a sustained professional intelligence effort to neutralize the IRA contributed to Britain'¬"s defeat. Although Britain possessed the world'¬"s most professional secret service, the British Intelligence Community underwent a politically driven and ill-advised reorganization in early 1919, at the very moment that Collins and the IRA were going on the offensive. Once Collins neutralized the local colonial spy service, the British had no choice but to import professional secret service agents. But Britain'¬"s wholesale reorganization of its domestic counterintelligence capability sidelined its most effective countersubversive agency, MI5, leaving the job of intelligence management in Ireland to Special Branch civilians and a contingent of quickly trained army case officers, neither of whom was equipped'¬ ;or inclined'¬ ;to mount a coordinated intelligence effort against the insurgents. Britain'¬"s appointment of a national intelligence director for home affairs in 1919'¬ ;just as the Irish revolutionary parliament published its Declaration of Independence from Great Britain'¬ ;was the decisive factor leading to Britain'¬"s disarray against the IRA. When the War Office reorganized its intelligence effort against Collins in mid-1920, it was too late to reverse the ascendancy of the IRA.