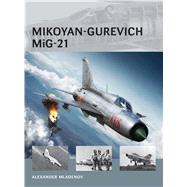 Note: Supplemental materials are not guaranteed with Rental or Used book purchases.
ISBN: 9781782003748 | 1782003746
Cover: Paperback
Copyright: 6/17/2014
The MiG-21, nicknamed 'Fishbed' by NATO, was the primary Soviet jet fighter from 1972 onward, opposing the F-15 Eagle and F-14 Tomcat worldwide in a variety of conflicts.
The MiG-21 firmly holds the title of the world's most widely built and used jet fighter, with over 10,000 units rolling off the lines of three plants in the former Soviet Union. The type was also built under license in India and Czechoslovakia, and without license in China until the late 2000s. Designed as a Mach-2 light tactical fighter, its original prototype, the Ye-6/1, was first flown in 1958. The first production variant of the type, designated the MiG-21F, appeared in 1960 and its improved sub-variant, the MiG-21F-13 (Type 74, NATO reporting name Fishbed-C), was made available for export by 1961. It was a simplified daytime short-range, clear-weather interceptor and tactical fighter.
The MiG-21F-13 featured a relatively weak armament of just two R-3S air-to-air missiles (AA-2 Atoll, a slightly improved reverse-engineered copy of the AIM-9B Sidewinder heat-seeking AAM) with an effective range at low altitude of between 0.27nm/0.5km and 1.1nm/2km. According to its pilots, the MiG-21F-13 was an excellent clear-day interceptor though it had limited combat radius and poor night capability. The light and agile aircraft was designed from the outset to intercept transonic/supersonic bombers and tactical fighters at all altitudes, up to 66,000ft.
The MiG-21bis was the last version of the type that took the air for the first time in 1969, with the first production examples rolling off the line in 1972. The MiG-21bis featured a strengthened fuselage, optimised for low-level air combat and ground attack. It was powered by the upgraded R-25-300 turbojet, rated at 40.2kN (9,038lb) dry and 69.65kN (15,653lb) with reheat, featuring a three-minute emergency reheat rating of 97 kN (21,790 lb) at low level. Pilots noted, however, that the heavier 'bis' was much less agile than the MiG-21PF/PFM, and that it behaved like a "bull" in the air while flying the MiG-21PFM was like "riding a stallion."
The MiG-21bis was a successful combination of a 1960s airframe and powerplant fitted with a 1970s-vintage analog avionics suite and modern dogfight missiles. By the mid-1980s, although it retained the principal shortcomings of its predecessors - limited operational radius and radar range, lack of beyond-visual-range missiles, poor pilot visibility, mediocre slow speed handling characteristics and high pilot workload, requiring hard training and concentration during the entire sortie - it proved to be an inexpensive and widely popular combat aircraft.