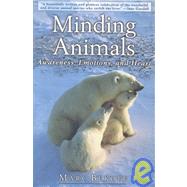 Note: Supplemental materials are not guaranteed with Rental or Used book purchases.
ISBN: 9780195150773 | 0195150775
Cover: Hardcover
Copyright: 5/2/2002
Thinking bees, ice-skating buffaloes, dreaming rats, happy foxes, ecstatic elephants, despondent dolphins--in Minding Animals , Marc Bekoff takes us on an exhilarating tour of the emotional and mental world of animals, where we meet creatures who do amazing things and whose lives are filled with mysteries. Following in the footsteps of Konrad Lorenz and Niko Tinbergen, Bekoff has spent the last 30 years studying animals of every stripe--from coyotes in Wyoming to penguins in Antarctica. He draws on this vast experience, as well as on the observations of other naturalists, to offer readers fascinating stories of animal behavior, including grooming and gossip, self-medication, feeding patterns, dreaming, dominance, and mating behavior. Many of these stories are truly incredible--chimpanzees medicating themselves with herbal remedies, elephants clearly mourning a dead group member--but this is not simply a catalog of amazing animal tales, for Bekoff also sheds light on many of the more serious issues surrounding animals. He offers a thought-provoking look at animal cognition, intelligence, and consciousness and he presents vivid examples of animal passions, highlighting the deep emotional lives of our animal kin. All this serves as background for his thoughtful conclusions about humility and animal protection and animal well-being, where he urges a new paradigm of respect, grace, compassion, and love for all animals. Marc Bekoff has gone deep into the minds, hearts, spirits, and souls of animals, giving him profound insight into their lives, and no small insight into ours. Minding Animals is an important contribution to our understanding of animal consciousness, a major work that will be a must read for anyone who loves nature.