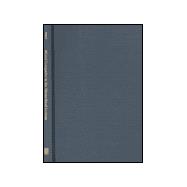 Note: Supplemental materials are not guaranteed with Rental or Used book purchases.
ISBN: 9781575861913 | 1575861917
Cover: Hardcover
Copyright: 6/1/2000
Mixed category constructions like the English verbal gerund involve words that seem to be central members of more that one part of speech. This poses a problem for the standard view of syntactic categories. This book presents a novel analysis of this and similar mixed category constructions in languages including Quechua, Tibetan, Arabic, Fijian, Dagaare, and Jacaltec. Under this analysis, Robert P. Malouf shows that verbal gerunds share the selectional properties of verbs and the distributional properties of nouns. He further shows that since different dimensions of grammatical information can vary independently, the behavior of mixed categories creates no paradox. These dimensions are in principle independent. However, certain types of mixed categories are quite common in the world's languages, while others are rare or nonexistent. The book discusses how cross-linguistic variation can be accounted for by a lexical categorial prototype. By stating these prototypes as default constraints in a hierarchy of lexical information, Malouf argues that one can bring insights from cognitive and functional approaches to linguistics into a formal analysis, thus building on the strengths of both approaches.