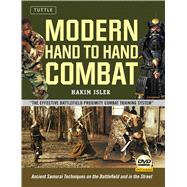 Note: Supplemental materials are not guaranteed with Rental or Used book purchases.
ISBN: 9780804846134 | 0804846138
Cover: Hardcover
Copyright: 8/4/2015
Modern Hand to Hand Combat: Ancient Samurai Techniques on the Battlefield and in the Street recognizes the lawless nature of today's battlefield. Hakim Isler, an Iraqi war vet, knows from his own experiences that in an urban combat setting, the players, the equipment, and the stakes are very different from those found in an MMA octagon, the boxing ring, or the martial arts dojo. Isler combines the lessons learned as a member of special ops with his training in the martial arts to create a system of combat that accommodates the heavy armor and equipment carried by the modern soldier. Based primarily on samurai techniques over a millennium old, Isler's system—Battlefield Proximity Combat—is an effective answer to the unique needs of the modern warfighter and military defense.

Today's ground soldier can carry up to 125 pounds of equipment and personal armor during any typical mission. The trade off for this protection is a lack of mobility. In a close proximity situation the modern combat solider is at a decided disadvantage compared to his more nimble opponent. Similarly, on the battlefields of medieval Japan, the heavily armored samurai faced the same battlefield conditions. In order to disarm or incapacitate a more nimble opponent, the samurai developed a system of effective techniques based on their limited range of movement.

This book gives step-by-step self-defense instructions on how to effectively and realistically respond to life and death hand-to-hand combat situations through movements and principles that are as valid today as they were 1000 years ago. With almost three hundred illustrations and a detailed DVD, the philosophy and instructions in Modern Hand to Hand Combat can mean the difference between life and death on the battlefield or in a street fight.