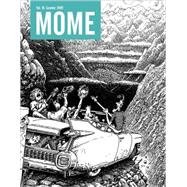 Note: Supplemental materials are not guaranteed with Rental or Used book purchases.
ISBN: 9781606991534 | 1606991531
Cover: Trade Paper
Copyright: 11/17/2009
This issue features several of our favorite alternative comic artists ofthe last 15 years, bringing us great joy. Archer Prewitt is the first, withan all-new #xE2;#x80;#x9C;Funny Bunny#xE2;#x80;#x9D; strip created in between his active musicalcareer. #xE2;#x80;#x9C;The Moolah Tree#xE2;#x80;#x9D; is the new Fuzz & Pluck graphic novel fromTed Stearn, following Fuzz & Pluck and Fuzz & Pluck: Splitsville,beginning serialization here. We are equally proud to debut new workfrom Ren#xC3;#xA9;e French, whose work is also featured on the front and backcover of this issue. And Nicholas Mahler debuts to ask "What Is Art?"(translated by secret weapon Kim Thompson). Also: the second chapter of T. Edward Bak's "Wild Man#xE2;#x80;#x94;The StrangeJourney#xE2;#x80;#x94;and Fantastic Accounts#xE2;#x80;#x94;of the Naturalist Georg WilhelmSteller, from Bavaria to Bolshaya Zemlya (and Beyond)"; a new "ColdHeat" story by the team of Ben Jones, Frank Santoro & JonVermilyea; Dash Shaw interprets an episode of "Blind Date" into comicsform; and new stories from Lilli Carr#xC3;#xA9;, Conor O'Keefe, Laura Park, NateNeal, and Sara Edward-Corbett, with incidental drawings by Kaela Graham. Since its inception in 2005, MOME has served as a McSweeney#xE2;#x80;#x99;s for comics. Whether exposing new talent like Eleanor Davis (author of the recent Stinky by Toon Books); featuring short stories by contemporary graphic novelists like Dash Shaw (The Bottomless Belly Button); bringing the work of international superstars like David B. (Epileptic) to American audiences; or introducing the work of legends like Gilbert Shelton (The Fabulous Furry Freak Brothers) to a new generation of readers, MOME is the most acclaimed, accessible, frequent, and reasonably priced anthology on the market despite its high production values and mostly color format.