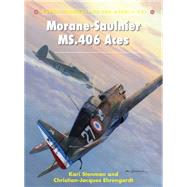 Note: Supplemental materials are not guaranteed with Rental or Used book purchases.
ISBN: 9781782003410 | 178200341X
Cover: Paperback
Copyright: 5/20/2014
French World War II fighter design was cut short by the fall of France, but the MS.406 also saw service in Vichy French colonies and Finland.
The MS.406 was an important aircraft not only because it was built in larger numbers than any other French fighter of the period, but also because it was the first modern fighter in the Armée de l'Air inventory. Although comparable to the British Hurricane and early models of the German Bf 109, it was outclassed when flown against the more powerful, and faster, Bf 109E. With little or no protection (no armour or self-sealing tanks), the MS.406 sustained heavy losses during the Battle of France. Too lightly armed, and fitted with unreliable weaponry, the French fighter struggled to down German bombers. It therefore comes as no surprise that only a dozen French pilots became fully fledged aces on the type during this period, despite the aircraft being present in significant numbers. However, a score of pilots, who bagged their very first kills at the controls of the MS.406, fought on after the fall of France, flying Dewoitine D.520s, Spitfires and even Soviet Yak-3s to attain ace status against both Allied and Axis opponents. A little known fact is that although the MS.406 was phased out of service in Vichy France and North Africa after the armistice was signed with Germany in June 1940, it soldiered on in French colonies that remained under the control of the Vichy government. The MS.406 was pitted against Japanese and Thai forces in French Indo-China (late 1940), Commonwealth air forces in Syria (May-June 1941) and, finally, the Fleet Air Arm in Madagascar (May 1942). The most successful user of the MS.406 in terms of aerial victories scored was Finland, whose air force initially received 30 examples in February 1940 that soon saw action during the last weeks in the "Winter War". Further batches of captured ex-French MS.406s were bought by the Finns from Germany, raising their force to 87 aircraft in total. The "Continuation War," commencing with the German attack on the Soviet Union, saw ten aces emerge during the first six months of the fighting. The MS.406 was then more than a match for Soviet I-16 and I-153 fighters, and had no problems chasing down Tupolev SB and Ilyushin DB-3 bombers. From 1942 the victory rate of Finnish MS.406 pilots slowed due to a lack of enemy opposition during this period and the worn-out engine-mounted 20 mm cannon fitted to the fighters. The introduction of new Soviet types like the LaGG-3, Yak-1 and Lend-Lease Hurricane and Tomahawk fighters also completely outclassed the MS.406, resulting in the French fighters' removal from the frontline.