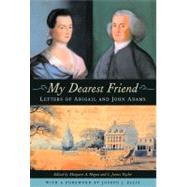 Note: Supplemental materials are not guaranteed with Rental or Used book purchases.
ISBN: 9780674057050 | 0674057058
Cover: Paperback
Copyright: 11/15/2010
Listen to a ten-minute interview with Margaret Hogan Host: Chris Gondek Producer: Heron & CraneRead Margaret Hogan's HUP blog posting: "The Romance of John and Abigail Adams"Watch the video of The Massachusetts Historical Society's November 2007 event at which Deval and Diane Patrick, Edward and Victoria Kennedy, and Michael and Kitty Dukakis read selected letters from My Dearest FriendVisit the Adams Family Papers: An Electronic ArchiveWatch the March 2008 HBO miniseries--"John Adams"--based on David McCullough's Pulitzer Prize-winning biographyIn 1762, John Adams penned a flirtatious note to "Miss Adorable," the 17-year-old Abigail Smith. In 1801, Abigail wrote to wish her husband John a safe journey as he headed home to Quincy after serving as president of the nation he helped create. The letters that span these nearly forty years form the most significant correspondence--and reveal one of the most intriguing and inspiring partnerships--in American history.As a pivotal player in the American Revolution and the early republic, John had a front-row seat at critical moments in the creation of the United States, from the drafting of the Declaration of Independence to negotiating peace with Great Britain to serving as the first vice president and second president under the U.S. Constitution. Separated more often than they were together during this founding era, John and Abigail shared their lives through letters that each addressed to "My Dearest Friend," debating ideas and commenting on current events while attending to the concerns of raising their children (including a future president).Full of keen observations and articulate commentary on world events, these letters are also remarkably intimate. This new collection--including some letters never before published--invites readers to experience the founding of a nation and the partnership of two strong individuals, in their own words. This is history at its most authentic and most engaging.