My Life as an Experiment One Man's Humble Quest to Improve Himself by Living as a Woman, Becoming George Washington, Telling No Lies, and Other Radical Tests
, by
Jacobs, A. J.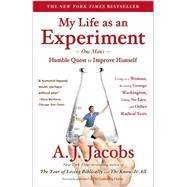 Note: Supplemental materials are not guaranteed with Rental or Used book purchases.
ISBN: 9781439104996 | 1439104999
Cover: Paperback
Copyright: 7/13/2010
One man. Ten extraordinary quests.
Bestselling author and human guinea pig A. J. Jacobs puts his life to the test and reports on the surprising and entertaining results. He goes undercover as a woman, lives by George Washington's moral code, and impersonates a movie star. He practices "radical honesty," brushes his teeth with the world's most rational toothpaste, and outsources every part of his life to India—including reading bedtime stories to his kids.
And in a new adventure, Jacobs undergoes scientific testing to determine how he can put his wife through these and other life-altering experiments—one of which involves public nudity.
A.J. explores the big issues of our time--happiness, dating, morality, marriage--by immersing himself in eye-opening situations. In his role as human guinea pig, Jacobs fearlessly takes on a series of life-altering challenges that provides readers with equal parts insight and humor.
He goes to the Academy Awards disguised as a movie star, to understand the strange and warping effects of fame. He commits himself to ultimate rationality, using cutting-edge science to make the best decisions possible. He attempts to follow George Washington's rules of life. And, for a month, he followed his wife's every whim.--From publisher description.
What makes this book funny is Jacobs' writing style. He is witty and self-deprecating. He is also very relatable, and honest, documenting why certain aspects were hard, what he found rewarding, and what he hoped to continue even after the experiment was over.
Filled with humor and wisdom, My Life as an Experiment will immerse you in eye-opening situations and change the way you think about the big issues of our time—from love and work to national politics and breakfast cereal.