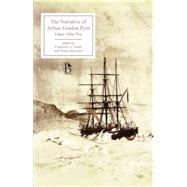 Note: Supplemental materials are not guaranteed with Rental or Used book purchases.
ISBN: 9781551118383 | 1551118386
Cover: Paperback
Copyright: 7/16/2010
"This new edition of Poe's only completed novel represents a welcome option for instructors. The edition features a comprehensive critical introduction detailing the history of Pym scholarship and critical approaches, a detailed chronology of Poe's life, and three valuable appendices that reprint Poe's most important literary sources, a healthy selection of contemporary reviews, and responses by other writers such as Melville and James. The selection of sources and reviews will delight instructors eager to teach the novel in its nineteenth-century context."-Leland S. Person, University of Cincinnati

"This scrupulously prepared, thorough, and extremely useful edition of Poe's only novel will thrill students, instructors, and general Poe aficionados in equal measure. Indeed, the map of Pym's voyage, incredibly appearing here for the first time, is worth the price of admission alone! The developed and informative introduction, meticulous footnotes, well-considered bibliography, and carefully selected appendices combine to offer a model of accessible and impressive scholarship ideal for the classroom or for the general reader of Poe. Even experts are likely to glean new insights from this top-notch edition."-Jeffrey Andrew Weinstock, Central Michigan University

Edgar Allan Poe's only long fiction has provoked intense scholarly discussions about its meaning since its first publication. The novel relates the adventures of Pym after he stows away on a whaling ship, where he endures starvation, encounters with cannibals, a whirlpool, and finally a journey to an Antarctic sea. It draws on the conventions of travel writing and science fiction, and on Poe's own experiences at sea, but is ultimately in a category of its own.

Appendices include virtually all of the contemporary sources of exploration and south polar navigation that Poe consulted and adapted to the narrative, together with reviews and notices of Pym and a sampling of responses to the novel from a wide array of authors, from Herman Melville and Charles Baudelaire to H.P. Lovecraft and Toni Morrison. Seven illustrations are also included.

The late Frederick S. Frank was Professor Emeritus of English at Allegheny College. He published widely on Gothic literature and was the editor of the Broadview Edition of Horace Walpole's The Castle of Otranto cold The Mysterious Mother. Diane Long Hoeveler is Professor of English at Marquette University.