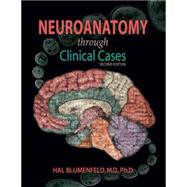 Note: Supplemental materials are not guaranteed with Rental or Used book purchases.
ISBN: 9780878936137 | 0878936130
Cover: Paperback
Copyright: 3/8/2010
Neuroanatomy through Clinical Cases brings a pioneering interactive approach to the teaching of neuroanatomy, using over 100 actual clinical cases and high-quality radiologic images to bring the subject to life. The Second Edition is fully updated with the latest advances in the field, and includes several exciting new cases. This approach allows students to appreciate the clinical relevance of structural details as they are being learned, and to integrate knowledge of disparate functional systems, since a single lesion may affect several different neural structures and pathways.

Most of the book comprises chapters that explain the major neuroanatomical systems. Each chapter first presents background material including an overview of relevant neuroanatomical structures and pathways, and a brief discussion of related clinical disorders. The second half of each chapter is devoted to clinical cases. The cases begin with a narrative of how the patient developed symptoms, and what deficits were found upon neurological examination. Boldface type highlights important symptoms and signs. A series of questions challenges the reader to deduce the neuroanatomical location of the patient's lesion, and the diagnosis. Discussion and answers follow, and an epilogue reveals the actual outcome. One of the book's most innovative features is the inclusion of CT and MRI scans that depict each patient's lesion. These radiographs help the reader develop skills in interpreting the same kinds of diagnostic images employed in clinical practice.

The book is intended primarily for first- or second-year medical students enrolled in a basic neuroanatomy, neurobiology, or neuroscience course. It is also a valuable resource for advanced medical students and residents, as well as students of other health professions, including neuropsychology, physical therapy, occupational therapy, nursing, dentistry, and speech therapy.

Every new copy of the book includes an access code for the RedShelf eBook (180-day subscription)..

For Students

The NeuroExam Video
Available on DVD and and online, The NeuroExam Video demonstrates how to perform a complete neurologic examination. It is intended for medical students, residents, and other students in the health care professions.

For Instructors

Instructor's Resource Library
The Neuroanatomy through Clinical Cases, Second Edition, Instructor's Resource Library features:

* Textbook Figures and Tables: All of the textbook's figures, photos, and tables are provided as both high- and low-resolution JPEG files. In addition, ready-to-use PowerPoint presentations of all figures and tables are included.

* Clinical Cases: All of the cases presented in the textbook, prepared as PowerPoint presentations for easy use in class.

* Case Conferences: A set of five PowerPoint presentations that consist of twenty new teaching cases that do not appear in the textbook. These cases are ideal for teaching or examining students using examples that are unknown to them. Also included are handouts with questions and answers.

* NeuroExam Videos: All of the segments of The NeuroExam Video are provided for use in class.