The New Tycoons Inside the Trillion Dollar Private Equity Industry That Owns Everything
, by
Kelly, Jason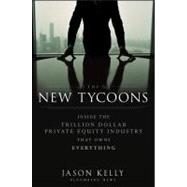 Note: Supplemental materials are not guaranteed with Rental or Used book purchases.
ISBN: 9781118205464 | 1118205464
Cover: Hardcover
Copyright: 9/11/2012
Private Equity firms, once tight-knit partnerships, have broadened their reach substantially, building or acquiring other businesses, from giving mergers advice to managing hedge funds, to underwriting stock and bond offerings. The majority have gone public, offering stock to retail investors, ensuring steady access to more money, and providing a means for which the billionaire founders (most of whom are already in their 60s) to cash out their holdings. This book will take the reader behind the scenes of these firms, understanding their origins and synthesizing the overlapping stories of their creations, evolutions and ambitions into a narrative as they prepare for significant public scrutiny as public companies. The Cast of Characters: Blackstone -- Stephen Scharzman, Tony James: A laid-off Lehman Brothers investment banker teams with his Lehman mentor to create a small advisory boutique. A decade later, he taps a savvy fellow banker who oversees an expansion and public offering, quadrupling its assets under management in a decade and leading the charge to the public markets. Carlyle -- William Conway, Daniel D'Aniello, David Rubenstein: Two young Washington area CEOs team with a lawyer and former Carter administration official to leverage their Washington connections into the first truly global private equity firm, tapping heretofore unknown, but massive, pockets of wealth in the Middle East. KKR -- Henry Kravis, George Roberts: A pair of Midwestern cousins who want to work for themselves join their Bear Stearns boss (who eventually leaves them for being too aggressive). They establish themselves definitively with the then record-setting RJR Nabisco deal, where they're dubbed Barbarians at the Gate. Almost two decades later, they'll top themselves twice to set new records. TPG -- David Bonderman, James Coulter: A wealthy Texan hires an historical trust lawyer from Washington to fight a freeway scheduled to run through Fort Worth. The lawyer ends up staying on as his top adviser and meets a brash young former consultant. The unlikely pair breaks off from the billionaire to buy Continental Airlines for $80 million, selling it a handful of years later for 20 times their money. They go on to buy the likes of Burger King and J. Crew.