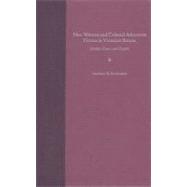 Note: Supplemental materials are not guaranteed with Rental or Used book purchases.
ISBN: 9780813029443 | 0813029449
Cover: Hardcover
Copyright: 4/14/2006
Cultural concerns about gender and empire converge in striking and unexpected ways in two popular novel forms of late-Victorian Great Britain. In the 1880s and 1890s, feminist New Woman fiction and colonial adventure stories competed for the sympathies of their readers. While one form questions a system that proclaims male superiority and the right to dominate others, the second celebrates British male victories over "savage" landscapes, animals, and people. Despite their differences, the author argues, one subgenre is the twin star of the other: Each revolves around the other, affected by the otherrs"s gravitational pull as well as by the influence of larger ideological constellations. In each subgenre, shifting gender boundaries are at stake and sexual desire often drives the narrative engine of the novels. The two subgenres intersect on topics of pressing cultural debates-Irish Home Rule, womenrs"s suffrage, the expanding empire, and a growing human rights movement-and in a number of ways, such as their use of similar metaphors and modes of narration. While empire builders speak of enlarging their territory and creating a wider sphere of action, New Women use the same metaphors for their excursions out of the domestic realm. Richardson shows that both subgenres often present themselves as hybrid forms. Indeed, she asserts, it is telling that Olive Schreinerrs"sThe Story of an African Farm-written in 1883 and considered the first New Woman novel-is set in an Africa more familiar to imperial adventurers than to nascent feminists. Her discussion includesSheandKing Solomonrs"s Mines, both by the master of the colonial adventure genre, H. Rider Haggard, as well as Mona Cairdrs"sThe Daughters of Danaus, Flora Annie Steelrs"sOn the Face of the Waters, Rudyard Kiplingrs"sKim, and Joseph Conradrs"sHeart of Darkness. Examining the mutual development of two novel forms that evolved in response to each other, this book will be welcomed by scholars of 19th- and 20th-century literature and popular culture, as well as feminist, womenrs"s, gender, cultural, and post-colonial studies.