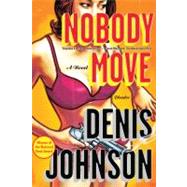 Note: Supplemental materials are not guaranteed with Rental or Used book purchases.
ISBN: 9780312429614 | 0312429614
Cover: Paperback
Copyright: 4/27/2010
Jimmy Luntz is an innocent man, more or less. He's just leaving a barbershop chorus contest in Bakersfield, California, thinking about placing a few bets at the track, when he gets picked up by a thug named Gambol and his life takes a calamitous turn. Turns out Jimmy owes Gambol's boss significant money, and Gambol's been known to do serious harm to his charges. Soon enough a gun comes out, and Jimmy's on the run. While in hiding he meets up with a vengeful, often-drunk bombshell named Anita, and the two of them go on the lam together, attracting every kind of trouble. The latest from National Book Award-winning author Denis Johnson, Nobody Move "does exactly what noir should do--propel the reader downhill, with its cast of losers, louts and toughs as they cheat, shoot, and exploit one another into fast-talking oblivion" (Jess Walker, The Boston Globe).Denis Johnson is the author of six novels, three collections of poetry, and one book of reportage. His novel Tree of Smoke was the 2007 winner of the National Book Award. He lives in northern Idaho. From the National Book Award-winning, bestselling author of Tree of Smoke comes a provocative thriller set in the American West. Nobody Move, which first appeared in the pages of Playboy, is the story of an assortment of lowlifes in Bakersfield, California, and their cat-and-mouse game over $2.3 million. Touched by echoes of Raymond Chandler and Dashiell Hammett, Nobody Move is at once an homage to and a variation on literary form. It salutes one of our most enduring and popular genres--the American crime novel--but with a grisly humor and outrageousness that are Denis Johnson's own. Sexy, suspenseful, and above all entertaining, Nobody Move shows one of our greatest novelists at his versatile best. "Johnson is one of the last of the hard-core American realist writers, working--in his own way--along a line that might be charted from Melville and Stephen Crane, with a detour through Flannery O'Connor and Don DeLillo. He routinely explores the nature of crime--all his novels have it in one form or another--in relation to the nature of grace (yes, grace) and the wider historical and cosmic order . . . Johnson is a great writer, and even a casual entertainment, written well, has meaning. If Tree of Smoke--intricately plotted, embracing the entire Vietnam era and bringing it up alongside the war in Iraq--was a huge piece of work, a Guernica of sorts, then Nobody Move is a Warhol soup can, a flinty, bright piece of pop art meant to be instantly understood and enjoyed."--David Means, The New York Times Book Review. "Hot on the heels of his National Book Award-winning novel, Tree of Smoke, Denis Johnson--by far one of our best writers--has written what might seem like a side step: a short, tight crime noir, produced under deadline as a serial for Playboy magazine. Like so many contemporary crime narratives (Pulp Fiction comes instantly to mind), Johnson's new novel, Nobody Move, keeps a narrow focus, homing in on the plight of Jimmy Luntz, a barbershop chorus singer, compulsive gambler and Steve Buscemi type who owes money to a guy named Ernest Gambol, who collects for a guy--a dealer of some sort--named Juarez . . . To give much more of the plot away would be to betray this hugely enjoyable, fast-moving novel . . . One senses that Johnson took great pleasure in writing on a deadline, keeping the story tight to the bone, honing his sentences down to the same kind of utilitarian purity he demonstrated in Tree of Smoke.