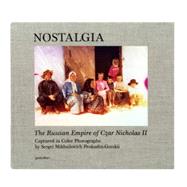 Note: Supplemental materials are not guaranteed with Rental or Used book purchases.
ISBN: 9783899554397 | 3899554396
Cover: Hardcover
Copyright: 10/25/2012
When, in 1909, the color photography pioneer Sergei Mikhailovich Prokudin- Gorskii began his journey to capture all of Russia in color images on behalf of the czar, the scope and importance of his undertaking were clear. Since 1905 he had planned to systematically document the empire with the color photography technique he had developed in order to give all Russians, particularly schoolchildren, a deeper connection to their country. He petitioned Nicholas II long enough that the czar finally provided him with a specially equipped railroad-car darkroom and the necessary travel permits. Before he commenced what would become a six-year expedition, Prokudin- Gorskii--like most of his contemporaries--had no idea what his fellow countrymen from the distant regions of Russia looked like or how they lived. His color images were not only meant to document the diverse citizens, ethnicities, settlements, folklore, and landscapes of a vast empire, but to create nothing less than a common identity for its populace. The subjects of Prokudin-Gorskii's landscape photography range from the medieval churches and monasteries of old Russia to the railroads and factories of an emerging industrial power. Although one of his first and most famous portraits was of the prominent writer Leo Tolstoy, Prokudin-Gorskii also captured an impressive range of Russia's heterogeneous population: from day laborers to owners of large estates, from a simple ferryman to an elegant emir, from Jewish families to proud Don Cossacks. Prokudin-Gorskii's expert use of color and his skilled eye make his images especially vibrant and timeless. A century later, they have not lost any of their original beauty and intensity. Sergei Mikhailovich Prokudin-Gorskii fled Russia in 1918 in the aftermath of the October Revolution. After traveling through Norway and England, he settled in Paris, where he died in 1944. The United States Library of Congress purchased his work in 1948, but it was only recently laboriously restored. Nostalgia showcases these restored masterpieces of early color photography that are a milestone in Russia's cultural history.