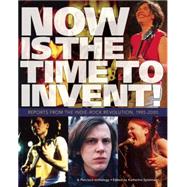 Note: Supplemental materials are not guaranteed with Rental or Used book purchases.
ISBN: 9781891241024 | 1891241028
Cover: Paperback
Copyright: 4/11/2017
There are many books about rock music but very few that sum up a whole era, or an entire genre. So when such books do come along, they can really hit home. Our Band Could Be Your Life accomplished this for 80s punk, for example, with sales now over 60,000—and it still sells strongly more than a decade after it was published. Now Is the Time to Invent has the potential to do the same for the indie rock scene that developed in the mid-80s and reached its apex in the 1990s. Drawn from the pages of influential music magazine Puncture, its 60 profiles and interviews trace the creative upsurge of alternative rock during those years. Lavishly illustrated with many rare photographs, Now Is the Time to Invent offers a scintillating account of a vibrant and hugely significant period in music. It's hard to define a single starting point for indie rock, but here it's found in the brilliant psychodramas Kristin Hersch conjured up for Throwing Muses and the deadpan, genre-busting proto-slacker anthems of Camper Van Beethoven, and followed through to the critical triumphs of Sleater-Kinney and Neutral Milk Hotel more than a decade later. Along the way, it takes in such pioneering artists as Sonic Youth, the Pixies, Meat Puppets, Hole, My Bloody Valentine, Nick Cave, Sebadoh, the Breeders, Jeff Buckley, Fugazi, P.J. Harvey, Guided by Voices, Beck, Cat Power, Pavement, Belle & Sebastian, Will Oldham, Rufus Wainwright, Flaming Lips, the Magnetic Fields, and many more.