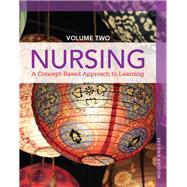 Note: Supplemental materials are not guaranteed with Rental or Used book purchases.
ISBN: 9780132934275 | 0132934272
Cover: Hardcover
Copyright: 5/9/2014
The state-of-the-art concept-based, student-centered introduction to nursing: first of two volumes, focused on 30 essential concepts associated with patients' psychosocial and reproductive concerns; with the nurse's professional domain; and with the nurse's roles and responsibilities in the broader healthcare system.
Today, nurses must be able to transfer their knowledge to new situations, and stay current with new disorders, treatments, and evidence-based practice. Nursing: A Concept–Based Approach to Learning, Volume II, Second Edition will help them achieve all these goals. Its concept-based approach requires students to participate actively, assume more responsibility for their knowledge, integrate concepts, apply information, and use clinical reasoning. Instead of memorizing thousands of alterations, students gain in-depth knowledge of selected alterations, and learn how to apply that knowledge as new challenges and client presentations come their way. The second of two volumes, this fully-updated Volume II focuses on 30 crucial concepts every nurse needs to master. It begins with several Psychosocial Modules covering addiction, cognition, culture/diversity, development, family, grief/loss, mood/affect, self, spirituality, stress/coping, and violence. After focusing on reproduction, it turns to the nursing domain, covering assessment, caring interventions, clinical decision making, collaboration, communication, care management, professional behaviors, and client teaching/learning. Finally, it turns to the nurse's broader roles, focusing on accountability, advocacy, evidence-based practice, healthcare systems, health policy, informatics, legal issues, quality improvement, and safety. The text's 30 concepts are illuminated with over 80 exemplars covering the entire lifespan.
Teaching and Learning Experience
This concept-based, student-centered text will help nurses master essential concepts of nursing, and apply critical thinking to deepen and extend this knowledge throughout their nursing careers.
Concept-based approach helps students synthesize today's most important nursing concepts, and extend their knowledge as new evidence and standards of practice arise: Replaces rote memorization with a deeper understanding of the most crucial concepts, supported with exceptionally relevant and useful examples, and the critical thinking skills needed to extend them
Up-to-date, thorough coverage of 30 crucial concepts every nurse should understand: Focuses on psychosocial and reproductive issues, on the nurse's role within the nursing domain, and on the nurse's broader roles and responsibilities within the healthcare system
Multiple pedagogical features to promote more effective learning: State-of-the-art teaching features make key concepts more accessible and intuitively understandable