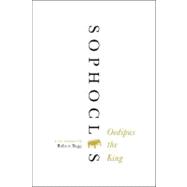 Note: Supplemental materials are not guaranteed with Rental or Used book purchases.
ISBN: 9780062132086 | 0062132083
Cover: Paperback
Copyright: 8/7/2012
Praised by Aristotle as the pinnacle of Greek drama, Oedipus the King is the ancient world's most shocking and memorable play: the story of a city's beloved hero and his royal family brought to hellish ruin by fate, supernatural manipulation, and all-too-human weakness.With a plague ravishing Thebes, it falls upon Oedipus, the king, to discover its cause. Yet in consulting the blind prophet Tiresias, Oedipus uncovers not only the roots of the gods' displeasure but also a dreadful secret about his own past. Prophesied from childhood to destroy his loved ones, Oedipus long ago left his homeland. In fleeing his fate, however, he has unwittingly fulfilled his grim destiny, for, as he is to discover, Thebes was always his true homeland; the stranger he slew on the road his true father; and the queen who bore his sons and daughters, his own mother. Oedipus' shame is irredeemable-and his revelation will have terrible consequences for all involved.Sophocles masterfully invokes the Western culture's most extreme taboos to explore our deepest questions about fate and free will, in a suspenseful story that still haunts audiences after 2,500 years. This phenomenal translation by Robert Bagg achieves an accurate but idiomatic rendering of the Greek original that is suited for reading, teaching, or performing.