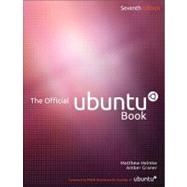 Note: Supplemental materials are not guaranteed with Rental or Used book purchases.
ISBN: 9780133017601 | 0133017605
Cover: Paperback
Copyright: 6/21/2012
Ubuntu is a complete, free operating system that emphasizes community, support, and ease of use while also enhancing speed, power, and flexibility. It is Linux for human beings, designed for everyone from computer novices to experts. Ubuntu 12.04 is the latest release-more powerful, more forward-looking, and friendlier than ever. The Official Ubuntu Book, Seventh Edition,will get you up and running quickly. This title serves a wide audience: Ubuntu novices, intermediate users, ,those who just want to test the waters and give Ubuntu a try, and those who want to take the next step toward becoming power users. It is not intended as a guide to highly technical uses like professional systems administration or programming, although there is some technical material here. The focus is on learning the landscape, starting from little to no experience with Ubuntu or Linux and maturing through proficiency and power use as a regular, everyday home or business user. Written by expert, leading Ubuntu community members, this book covers all you need to know to make the most of Ubuntu 12.04, whether you're a home user, small business user, server administrator, programmer, or novice. The authors explain Ubuntu 12.04 from start to finish: installation, configuration, desktop productivity, games, management, support, and much more. A new focus in this edition is deep coverage of the groundbreaking, user-experience-focused Unity desktop, an innovative new style of humancomputer interaction that has undergone extensive development and testing to provide powerful, industry-leading usability. This complete guide also covers standard desktop applications, from word processing, spreadsheets, Web browsing, e-mail, instant messaging, music, video, and games, to software development, databases, and server applications. In addition, you will Learn how to customize Ubuntu for home, small business, school, government, and enterprise environments Learn how to quickly update Ubuntu to new release versions with upgraded applications Find up-to-the-minute troubleshooting advice from Ubuntu users worldwide to get the help you need quickly Learn Ubuntu Server installation and administration, including LVM and RAID implementation Learn how to use Ubuntu One to buy legal music from your favorite artists and how to use cloud storage to back up or share your important files Learn how you can be a part of the community that creates Ubuntu The DVD includes the complete Ubuntu Linux operating system for installation on PC platforms. The disk is preconfigured with an outstanding desktop environment for both home and business computing, for novices and advanced users.