Open & Shut: Why America Has Barack Obama, and Canada Has Stephen Harper
, by
Ibbitson, John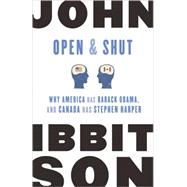 Note: Supplemental materials are not guaranteed with Rental or Used book purchases.
ISBN: 9780771043185 | 077104318X
Cover: Paperback
Copyright: 4/27/2009
Last November America elected its first black president. Canada, too, went to the polls that month. The difference for the two nations was remarkable: Americans had a clear choice between an indecisive, has-been who represented at best more of the same and a progressive, eloquent, African American, the first ever black presidential candidate. As Ibbitson remarks, "What were Canadians being offered? An overweight economist who couldn't offer an honest smile to save his life, and a backpacking political scientist whose English made your ears bleed. Who elected these guys? Practically no one." Ibbitson argues that the result of the US election was electric, energizing, and represents a profound changes in American politics. Barack Obama may well be just the man to rescue the republic from its many serious woes. The result of the Canadian election was, he says, as flaccid as the campaign itself: another Conservative minority government that shortly afterward tripped over its own hubris, causing a major political tempest in the Ottawa teapot. The elections and their aftermaths tell us two crucial things: One, America is still capable of slamming on the brakes and putting itself back on the right track. Two, in Canada, something has gone so seriously wrong with our leadership it's time to sound the alarm. Which is just what he does in this timely, perceptive, persuasive book.