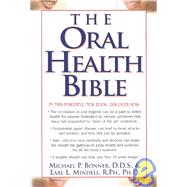 Note: Supplemental materials are not guaranteed with Rental or Used book purchases.
ISBN: 9781591200505 | 1591200504
Cover: Paperback
Copyright: 9/1/2003
Another health revolution has arrived, says Dr. Michael Bonner in his well-researched new book The Oral Health Bible, and there is no longer any separation between mouth medicine and body medicine. The mouth is completely connected to the body, he says, and is a doorway to achieving peak health and wellness in all the body's systems.This informative book contains an action plan for taking charge of our oral health and it educates us and our physicians and dentists by detailing how many debilitating health problems-conditions such as arteriosclerosis, heart attacks, strokes, rheumatoid arthritis, and premature and low-birth-weight babies-are intimately linked to oral health and hygiene..Dr. Bonner emphasizes the importance of finding and treating periodontal (gum) disease because, untreated, it can lead to heart attacks and strokes. He sees more gum disease now than he did twenty-five years ago, he says, largely because of the increasing availability of harmful oral hygiene products on the market. Mouthwashes, for example, are generally considered trustworthy, but in reality, they are the cause of 36,000 cases of oral cancer a year. Moreover, 500 people are killed annually from alcohol ingestion related to mouthwashes. Dr. Bonner discusses safe, effective oral health techniques and products in order to reverse gum disease with its far-reaching negative consequences. He also outlines how nutritional supplements can help deliver potentially enormous benefits to oral, as well as overall, health. In 1910, the Mayo (clinic) brothers said, "A person with a healthy mouth will live ten years longer."